All the features to be mentioned below are those that can only be opened in software, without requiring a mechanical operation or part assembly. In fact, it can be called closed feature instead of hidden feature or secret feature. Although these secret features exist in the infrastructure of your car, it has not been activated by the factory. In this page, we have explained in detail the Audi A5 F5 hidden features or secret features we can open for Audi A5 F5 cars via remote computer connection. It is recommended that you read this page before deciding on the features to open. If you have vcds cable and software, you can call us. Whatever version of your Audi A5 F5 car it has hidden features that can be activated no matter what.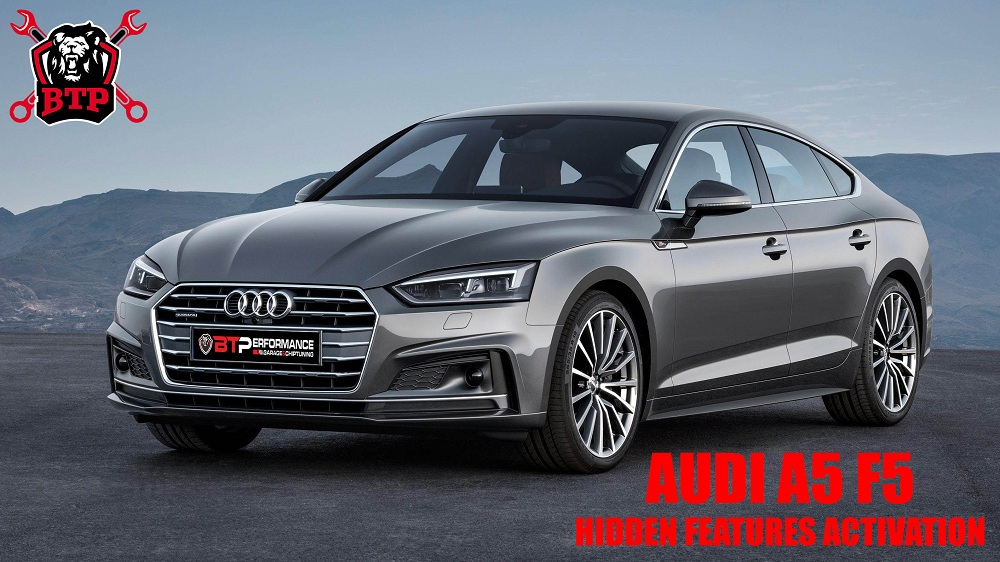 * You can look the features of other Audi cars. Audi A1 8X, Audi A1 GB, Audi A3 8P, Audi A3 8V, Audi A4 8K, Audi A4 8W, Audi A5 8T, Audi A6 4F, Audi A6 4G
*If you want to learn more information about Audi hidden features activation, click here.
Audi A5 F5 Hidden Features
I – Comfort Ones for Audi A5 F5 Hidden Features
Seat Massage Duration: We can adjust the seat massage duration. If you tink the time is much or less, it is possible to set this between 0 and 600 munites.
Seat Heating Value: We can adjust the degree of seat heating. It is possible to increase or decrease 5 degrees.
Seat Ventilation Amount: It is possible to increase or decrease the seat ventilation by 10%.
Cornering Lighting: We activate this feature for you to use fog lamps as corner lighting.
Turning Off the Belt Warning Sound and Visual: Although it is vital to wear a seat belt, the belt warning sound can be annoying when using low speeds between neighborhoods or short distances. We can mute the belt warning sound.
Deactivation Start-Stop Function: You can do this from inside the vehicle, but it is active again every time. For those who are bored with this situation and want to turn off the start stop feature, we turn it off.
Lane Assistance Intensity: If you are not satisfied with the steering assist intensity in the car with lane assist system, we can adjust it weaker or stronger.
Lane Assistance Inertia Warning Time: In the cars with lane assist system, when the driver does not see the reaction, we can take the cancellation period earlier or later.
II – Visual Ones for Audi A5 F5 Hidden Features
Staging(Instrument Celebration): We can make the hands on the instrument panel come to an end and come back when the vehicle ignition is turned on.
Parking Assist Multiple Display: If this feature is activated, you will have a 360 degree view on the screen.
Reverse Camera Duration Time: We can adjust the duration of the reversing camera on the screen. If you think it closes early or late, we can adjust the time.
Instrument Panel Screen Replacement: It is possible to change the start-up screen to the theme you want.
Integration of Daytime Running Lights into the Menu: With the activation of this feature, you can turn the daytime running lights on and off at any time via the multi media menu
III – Safety Features for Audi A5 F5
Activation of Anti Theft Alarm: We can make alarm coding in vehicles without theft alarm. In this way, if the glass is broken and the door is opened from the inside, the alarm will start ringing.
DWA Approval Sound: We can activate the feature of giving voice confirmation with the horn during the locking and unlocking of the doors. With this feature, you confirm that the doors are locked or opened with an audible warning.
Engine Pre- Heating: In cars with parking heating, the interior is warmed up. After this coding, the engine side is also heated at the same time, except for the interior being heated. This prevents the engine from being affected by the cold in the cold weather.
Fuel Tank Cap Automatic Lock: When the car autolock is activated, we can activate the automatic lock on the fuel tank cap.
Increasing Highway Comfort Signal Count to 5: Highway comfort signal is the signal system that helps us during lane change. When you activate it by touching the signal arm without right or left, it signals 3 times and automatically shuts off. We increase this number to 5, since 3 signal times are not enough to change lane time.
Deactivation of Headlight Washer: We can cancel the headlight washers.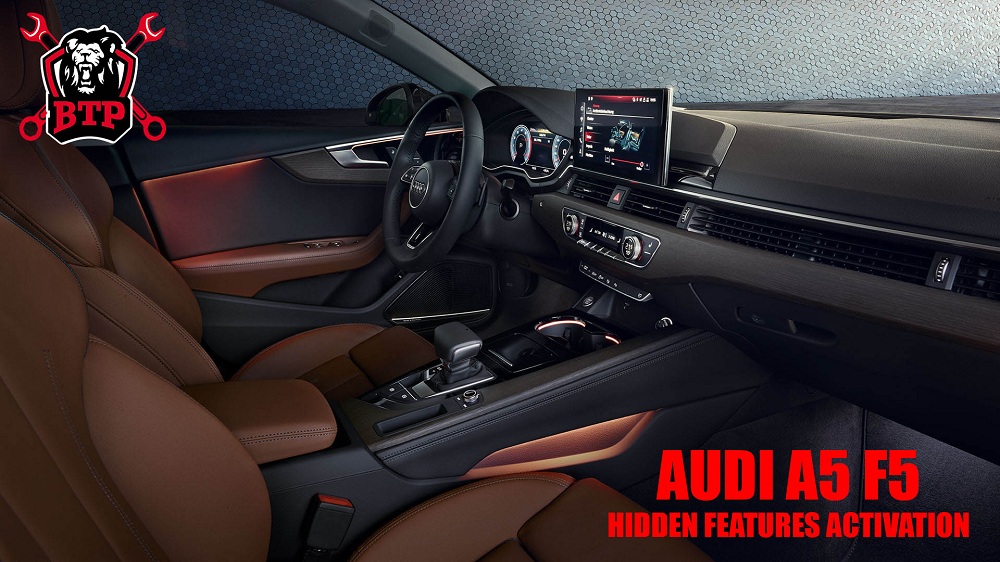 Do not forget to follow us on our social media accounts. You can reach us from the contact page and make an appointment.
Is Activation of Audi A5 F5 Hidden Features Dangerous?
Activation of Audi A5 F5 hidden features process is done with computer and even a screwdriver is not used. For this reason, it will not damage your vehicle, nor will it damage its warranty. For this reason, you can have it with peace of mind. If you own a Audi A5 F5 and you have not turned on its features, you should not call it Audi A5 F5.
How we work on your car with remote connection?
Whether you want to do this job professionally or ask for your own vehicle. If you have a VCDS cable and want to open a hidden feature, you can contact us. We connect to your computer with a remote computer connection and do all the necessary work for you. You can choose the credit system on the store page for the payment method or you can make a one-time shopping with a credit card. After purchasing from the store, you can contact us immediately and request a remote connection. After payment, we detect the hidden features for free. If there is a feature you are not satisfied, we can turn it off for free. For companies that want to open feature with remote connection, we can do it.
Other applications we do are;
-Chip Tuning (%35 Power increase and %15 Fuel Economy)
-DPF(Diesel Particulate Filter) Off
-EGR(Exhaust Gas Recirculation) Off
-Adblue Off
-Speed and rpm Limit Off
-Hidden Feature Activaton (BMW, Audi, Seat, Skoda, Renault and Dacia
-Part Adaptation and Coding
You can visit our services page to get information about the works we do outside of the hidden feature, or you can click here to return to the main page
References: Carstechnic and BTPerformance